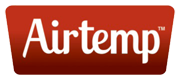 ​Heartland Heating & cooling Proudly Installs Airtemp Oil Furnaces
Efficient and worry-free home heatingAirtemp oil furnaces are designed to provide the best in home heating comfort and value. Clean combustion, engineered heat distribution and quiet operation are the benefits you can expect, year after year, when you choose an Airtemp oil furnace. And, our exceptional warranties insure peace of mind.
Quality, reliability and value…that's Airtemp.
All Airtemp oil furnaces have the following features:
D.O.E. compliant: All furnaces meet or exceed scheduled 2013 U.S. Department of energy efficiency standards
Clean combustion: High quality Beckett burners utilize the latest technology for efficient, clean combustion.
Proven design: Heavy gauge wrap-around proven design heat exchanger promotes smoother airflow and maximum performance.
Engineered airflow: Designed to provide a wide range of airflow delivery so there's one just right for your home's system.
Quiet operation: High density cabinet insulation reduces operational sound levels.
Attractive appearance: Appliance-grade powder coated steel cabinet ensures a long-lasting finish.
Rock-solid warranty coverage to protect your investment. When you choose Airtemp for your home comfort, your system comes with one of the best warranties in the business - 10 years on all parts.

1 Year Pledge Warranty....Outstanding Airtemp products are worthy of outstanding protection. Should major component failure ever occur within the first year of operation, we will replace the product. Timely registration is required. See
Warranty Page
for more information.