We have come a long way on technology of thermostats. Below are some premium models of thermostats we offer

The Nest Learning Thermostat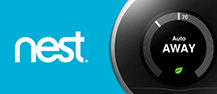 Amazing thermostat for the price.
Most people leave the house at one temperature and forget to change it. So the Nest Learning Thermostat learns your schedule, programs itself and can be controlled from your phone. Teach it well and the Nest Thermostat can lower your heating and cooling bills up to 20%.
Just turn it up and turn it down. The Nest Thermostat learns what temperatures you like and builds a personalized schedule. Teach it efficient temperatures for a few days and, within a week, it'll start setting them on its own.
---
---




Honeywell WiFi Smart Thermostat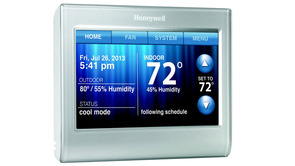 There are plenty of smart thermostats available, but the Honeywell Wi-Fi Smart Thermostat can match its touchscreen display's background color to the wall behind it, or any other color. And that's just its most obvious trick. Control from Anywhere - Honeywell's reliable and highly-rated app allows you to program your thermostat from your computer, tablet and smartphone, whether you're across the room or around the world. Extreme temperature alerts and filter change reminders are sent to your connected network devices and are display on your Honeywell Wi-Fi smart thermostat, so whether you're home or away, you'll never miss an alert

---