Water Heating



From standard tanks, high efficient and tankless, Heartland can take care of it.



For tankless instant hot water system we offer Navien

In 2006, Navien America, Inc. was established to open new markets
in the United States and Canada for parent company KD Navien. Navien America has
since become one of the fastest growing compnies in the home comfort sector in
North America, providing condensing tankless gas water heaters and condensing
combi boilers. Navien's products possess state-of-the-art thchnology, high
efficiency and reliable quality, making it the leader in the marketplace for
tankless technology.


Navien has achieved international recognition for its
sophisticated engineering and robust designs. Backed by more than thirth years
of eperience with advanced water heating thchnology, Navien will continue its
mission to provide high qualitiy product that are beneficial to both customers
and the environment.




---
Navien NPE Premium Condensing Gas Tankless

1 year labor warranty, 5 year parts warranty and 15 year heat exchanger warranty.

The heat exchangers on the NPE series are made of staineless steel, most of the competing units are using copper! Amazing units with technology such as intelligent preheating, this recognizes hot water usage patterns to intelligently provide hot water when needed.

Another benefit to using Navien is the Comfortflow technology. This advanced system designed to provide the most comfortable and seamless delivery on the market. This includes an internal insulated buffer tank and a recirculation pump. Since Navien is the only tankless manufacturer to provide you with these premium features you never have to worry about the "cold water sandwich" phenomenon that
affects many other tankless water heaters. Since you have a .5gal buffer tank in all "A" models you never have to worry
about a cold slug in the line like other tankless manufactors suffer from.

---
Heartland offers a wide range of water heaters...
We can service any make or model of water heaters
Below are the brands we prefer to install
A.O. Smith offers a wide array of both natural and LP gas-powered water heaters for residential use. These durable products provide years of dependable service and are designed to give you more hot water for the money.


---
---
G.E. Geospring Hybrid Electric Water Heater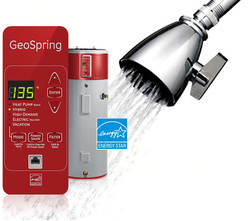 Did you know...
Residential electric water heaters are the second highest energy users in U.S. households.
The energy consumed by your refrigerator, dishwasher, clothes washer and clothes dryer combined use less energy than your current standard water heater.
GE is leading the way by developing a solution that offers the same amount of hot water for the entire family, while using significantly less energy than a standard water heater.
​
How Does it Work?
The GeoSpring water heater combines energy-saving heat-pump technology with traditional electric elements using a fraction of the energy. The integrated compressor and evaporator use a fan to draw in ambient heat from surrounding air to heat refrigerant. Then the heated refrigerant runs through coils that wrap the tank all the way to the bottom, transferring heat into the water tank. This innovative process creates the same amount of hot water as a traditional electric water heater, while reducing your heating expenses up to 62%—a savings of $365* per year.
---